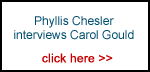 We hope that you'll feel our website is worthy enough to contribute a few pounds to the bandwidth bills.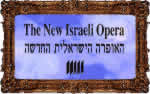 Last uploaded : Wednesday 3rd Aug 2005 at 19:05
Contributed by : Noamm Gavrieli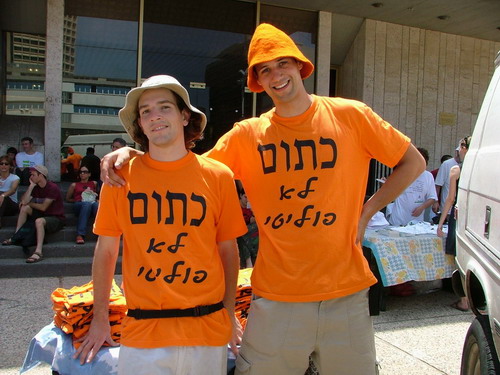 About a month ago orange became the color of the anti-disengagement campaign in Israel. What started with just a few posters that attracted the cameras in demonstrations soon became ribbons tied to cars on almost every significant junction and today the symbol is inseparable from the color.

So much so that pull-out supporters avoid wearing orange at all costs (I?ve even heard of someone who stopped eating carrots) and at the ?knesset? ? the parliament house, where no political protest is allowed - it is forbidden to enter wearing it; even an Indian delegation wearing orange saris was denied entry at the gates.

It is this absurd situation that brought two - some would say sane, others downright silly, young men ? Noaam Gavrieli (also the writer of these very words) and Dotan Berman from Kiryat Tivon to start the ?Non Political Orange? (Katom Lo Politi - in Hebrew) movement (which currently includes the two of us) and print the motif on a hundred t-shirts to sell to the pigment-deprived public.

We get a lot of reactions from ?there is no such thing? to ?Kol Hakavod? - well done.
To people who don?t understand which side we are on, we say that we are with the sunset, the oranges and the warning signs.

We don?t mean that people should not be politically active ? what we are saying is that people should not be labeled by their taste in clothing; that colors are first of all colors and that people are first of all people. In these complicated days, this simple message is drawing a lot of attention from the public and media - both local and international.

As a counter-attack to the orange sweeping the country, the pro disengagement groups made blue the color of support ? also with signs, stickers and ribbons. So far the orange has the upper hand on the streets, but if the blue picks up, and with green being the color of the army and yellow just out of fashion, people who want to keep it simple will just have to walk stark naked. In the heat of the Israeli summer, maybe that?s not such a bad idea.
*****************
Noamm Gavrieli is a first-time contributor to Current Viewpoint; he is a 24-year-old Israeli writer.