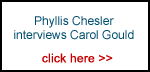 We hope that you'll feel our website is worthy enough to contribute a few pounds to the bandwidth bills.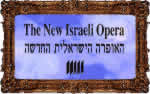 Last uploaded : Tuesday 31st Dec 2002 at 23:30
Contributed by : The Editors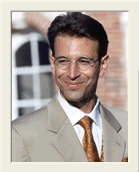 The Editors of Jewish Comment have selected as our Person of the Year the late Daniel Pearl, the respected and much-loved Wall Street Journal correspondent kidnapped and cruelly executed in Pakistan in February 2002.

Danny represented everything that is most highly valued in professional journalism : courage and devotion, even when one?s life may be at risk. He was a citizen of the world who never let his religion or nationality influence his writing. It is an irony that his religion and nationality led to his cruel demise. Danny wrote with a unique style on a variety of subjects, and his genuine interest in knowing more about young men who turn to causes like al Qaeda -- NOT a desire to condemn them or to disparage Islam -- led him to his fateful end.

Above all, we have selected Danny because he was not afraid to say ?I am a Jew? with pride and with the ancient courage of his forefathers at a moment when he must have known he was facing an unfair and premature journey to Eternity. His final days must have been unbearably lonely and miserable, but from the few pictures the world received from his captors, he maintained his dignity and looked so worthy of being called a man of valour.

We salute the work of Daniel Pearl and we lament the body of work that would have come as he laboured at his desk at the Wall Street Journal. As he would have gone grey he would have watched his son Adam reach maturity and we grieve that these treasures of a full life were not meant to be.

Daniel Pearl is our Person of the Year because we as journalists know that we take enormous risks for our Muse; sometimes we are foolhardy and sometimes we are downright insubordinate. However, in the spirit of the great Benjamin Franklin and Tom Paine, Danny Pearl was determined to give the world a comprehensive rendering of the background to the Richard Reid story, and in trying to do so gave his life in the name of a Free Press, something we in the West cherish most dearly.

We received many nominations for Person of the Year ranging in ideology from Left to Right, from pacifist to hawk, but in the end we chose Danny, who did not seek to espouse an ideology but to perform his job as best he knew how and who died in unspeakable circumstances in a year when being Jewish, Israeli and/or American seems to have made the world a very hostile place.

What an irony, too, that the Jews, Israelis and the Americans have been, like Danny Pearl, amongst the most generous, hard-working and accomplished of peoples, but their very attributes seem to have generated such vile hatred and spiteful blame-mongering in all corners of the earth. The ironies are many -- it is said that bin Laden paid for millions of polio vaccines to be distributed to needy children. Who invented the vaccine? Jonas Salk. An American Jew. Who knows what greatness Daniel Pearl would have achieved? Even had he not, he deserved to live out his life as a husband and father and we pray for the peace of his soul.


********************
DANIEL PEARL BIOGRAPHY
(Please visit the Daniel Pearl Foundation website on our Links page)

The world has come to know Daniel Pearl as the Wall Street Journal reporter who was murdered by terrorists in Karachi, Pakistan, earlier this year. Since then, he has been remembered more for his humanity and love of life than his senseless death.

Danny -- as he was known to family, friends, and colleagues -- was born on Oct. 10, 1963, in Princeton, N.J., and moved with his family to Los Angeles at the age of 2. Early on, he displayed an insatiable curiosity for numerous pursuits, be they musical, intellectual, or athletic. He continued to be active in all of these areas throughout his life.

Music was an essential form of expression for Danny. His early interests led him to become an accomplished violinist, as well as a fixture in several bands and clubs that gave him another outlet for his virtuoso turns on electric violin, fiddle, and mandolin. Friends and colleagues recall how quickly he would pick up an instrument when he sensed an occasion, such as the song he co-wrote for his pregnant and overdue friend or the Christmas he serenaded co-workers who were waylaid at the office.

Danny exuded this kind of compassion and joyousness wherever he went. He endeared himself to others with an easy humor and appreciation for the absurd, always keeping an open mind to other perspectives, cultures, and backgrounds. Clerics and rabbis, CEOs and refugees, musicians and politicians all considered him a friend. He joined pickup soccer games, sniffed out nightclubs, and talked up strangers - no matter the geography. He was by nature a bridge-builder who sought to make people understand each other better through his music, words and humor.

A gifted writer from a very young age, Danny's aptitude for journalism became apparent later on. He attended Stanford University from 1981 to 1985, where he stood out as a communication major with Phi Beta Kappa honors and co-founded a student newspaper called the Stanford Commentary. After graduating from Stanford, he spent a summer as a Pulliam Fellow intern at the Indianapolis Star and a winter bussing tables as a ski bum in Idaho. Following a trip to the then-Soviet Union, China, and Europe, he joined the North Adams Transcript and the Berkshire Eagle in Western Massachusetts. He moved on to the San Francisco Business Times before being hired by the Wall Street Journal in 1990.

He started in the Journal's Atlanta bureau and moved to the Washington bureau in 1993 to cover telecommunications. He jumped to the Journal's London bureau in 1996 as a Middle East correspondent, before meeting his wife-to-be Mariane in 1998 and resettling in Paris. The two were married in 1999 and relocated to Bombay in 2000, where Danny became the Journal's South Asia bureau chief.

Danny's skill as a foreign correspondent was apparent not only in the entertaining pieces that shed light on other cultures and customs but also in investigative stories that uncovered the truth from the rubble of war and devastation: discovering that the U.S. had mistakenly bombed a Sudanese pharmaceutical plant that was thought to be a terrorist weapons factory; refuting characterizations of the war in Kosovo as genocide; and breaking the story of al Qaeda's money laundering through the tanzanite gem market.

It was from Bombay that Danny covered the "war on terrorism," occasionally venturing into Pakistan. He was retracing the steps of "shoe bomber" Richard Reid and hoped to meet with militant extremists when he was abducted in Karachi on Jan. 23, 2002. Several weeks elapsed without word of his fate when he was confirmed to be dead on Feb. 21. Four of the kidnappers were convicted of murder on July 15, including mastermind Omar Saeed Sheik.

During this period of time, Mariane Pearl gave birth to her and Danny's only child, Adam. By then, the world had become familiar with Danny's gentle, caring, and honest character, which continues to inspire many who have never even met him. His friends and family created the Daniel Pearl Foundation to carry on his legacy, using music and words to help people better understand one another.